Azriel Novogroder PT,  the owner of Novogrow, LLC since its inception in 2002, is a NJ Licensed therapist (N Lic. # 40-QA00950000) with 21 years of experience. Azriel trained in CME (Cuevas-MEDEK Exercises) level III with Ramon Cuevas PT, the owner of Novogrow, LLC since its inception in 2002, is a NJ Licensed physical therapist (NJ Lic. #: 40-QA00950000) with 21 years of experience. Although most of his current experience is in pediatrics in an outpatient and private setting, Azriel also has experience treating adults and children in acute care, intensive care, cardiac, pulmonary and burn units, and in rehabilitation settings. Azriel received his MA in physical therapy from Touro College School of Physical Therapy in Long Island, NY in January, 1991. Azriel is a member of the American Physical Therapy Association (APTA) and the Pediatric Section of the APTA since starting PT school in 1987. Azriel trained in CME (Cuevas-MEDEK Exercises) Level III with Ramon Cuevas PT the creator of CME  in 2008 and Level I & II with Ramon and Esther Fink, PT  his co-instructor at that time, in 1996 and 1997 respectively. In 2006, Azriel completed the 8 week training in NDT with Lois Bly, PT as the primary instructor. Azriel incorporates the CME approach together with the NDT approach and continues to incorporate ongoing continuing education courses in his practice including the use of Kinesio-Taping and Conductive Education among other approaches. Azriel has a strong interest in the Bible, the Muppets, and being a good father to his three children.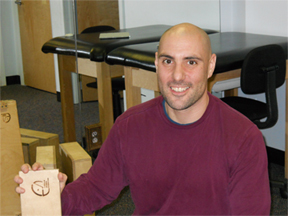 Timothy Purcell PT is a NJ licensed physical therapist (NJ Lic. #: 40-QA00794600) with 14 years of experience in various pediatric settings including early intervention, school based, home care, and private practice.  Timothy received his Bachelors of Science in PT from Daemen College in Amherst New York and his clinical Doctorate of Physical Therapy from the University of Medicine and Dentistry in 2011. Timothy has been a member in good standing for just as long with the American Physical Therapy Association and an active in the pediatric section of the APTA.   Timothy is also affiliated with the Neurodevelopmental Treatment Association for the past 7 years.  Timothy has side interests in the ecological considerations for pediatric rehabilitation, has been developing a skill set in home modification, and is affiliated with CHER (comprehensive home evaluation report).
Timothy has received a level II certificate in CME by direct tutorial from the creator, Ramon Cuevas, and has spent the past several years under the tutelage of level III CME practitioner and owner of Novogrow, Azriel Novogroeder.  Other clinical interests include pediatric tests and measures, clubfoot and other common pediatric orthopaedic impairments, and long term developmental needs of individuals living with cerebral palsy and other physical disabilities.  Timothy's personal interests include running, Bikram Yoga, food, and drink.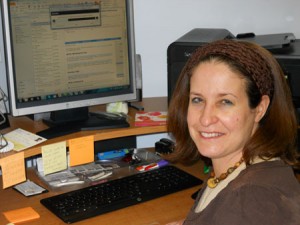 Batya Novogroder is currently the Office Manager for Novogrow, LLC.  She received her BA (Cum Laude) from Stern College in Communication Disorders in June, 1990 and her MS in Speech Language Pathology from Hunter College, CUNY in December, 1994.
She worked as a Speech and Language Pathologist for a decade with both school aged children and in early intervention Home Care through various agencies in NY and NJ. During her college years, Batya worked as an administrative assistant for Dr. Egon Mayer, head of the Sociology Department at City University's Graduate Center.
Batya enjoys working at Novogrow, LLC and meeting the families who come to see Azriel & Tim from near and far. Batya also enjoys spending time being in touch with friends and family on the Internet. Most importantly, Batya enjoys being the CEO of the Novogroder household and caring for her 3 children and her oldest 'child' Azriel!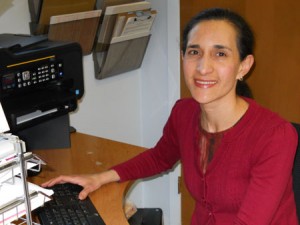 Eugenia Macchia has been working at Novogrow, LLC as the office secretary since September, 2011. Her only son Matthew has special needs and has been a client at Novogrow, LLC since 2007. She has witnessed first-hand the dedicated and wonderful work at the facility. Eugenia is fluent in Spanish and English and her joining the facility greatly enhances communication and the congenial atmosphere.
Eugenia worked as a mechanical engineer for 10 years until her child was one year old.  Outside of work she is very involved with the care of her beautiful son and advocating for his needs.  Some of her interests include jogging, swimming, reading and watching inspiring videos / shows.